Posts Tagged 'Georgia'
February 11, 2014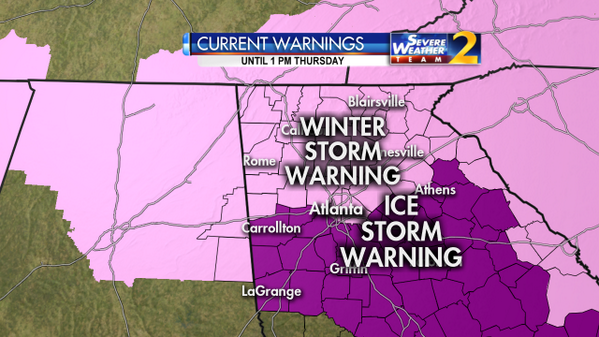 It's about to get really interesting here in middle Georgia. Downed power lines, trees will fall on cars and houses which means there is a real good chance that someone is gonna die over the next few days. It's amazing what an inch of ice on tree limbs and power lines can do. Then the wind comes pushing the weight of ice covered pine trees and 200 year old oaks to their limits sending them crashing down upon homes and cars. Some will have people inside.

This will be my third major ice storm here in Georgia. My first was in 1973. That was the worst to date for Atlanta.
On January 7, 1973 it began to rain. It soon turned into an icy monster which covered power lines, pine trees and exploding power transformers. For three solid days, over 300,000 people were without power, many of them were without heat, phone service and no way to travel or move about. The entire city of Atlanta was shut down.
During the very dark nights you could here the sounds of trees cracking and slamming to the ground. A local reporter said, "It was like the sound of an artillery barrage, and the results were just as devastating." Trees fell crushing homes and cars. Power transformers exploded all over the city illuminating the night with bright flashes of white and blue light. The city was plunged into a cold darkness from which it would not emerge for 7 days. The temperatures were well below freezing and stayed that way for an entire week. Everyone stayed by their transistor radios for any news of hope. People prayed for a Georgia Power truck to come into their neighborhood. Cars and homes caught fire and many could not be reached by fire trucks. It was a living nightmare.
The next few days will either be a repeat of 1973 or possibly worse. That prediction came from a Georgia Power official.
We all laugh at those reports of snow and how us Southerners can't drive in it. This is not snow and it certainly is not a laughing matter. Snow is manageable, ice just plain sucks, and I don't care how far north you come from. Ice is a different beast and it couldn't care less how far north you come from.
No one here in Georgia is laughing tonight. -JRoycroft